Wenn ich mir diese Woche meine neuesten Favoriten auf Ravelry anschaue, scheint es einerseits sehr musterlastig zugegangen sein, andererseits aber auch wiederum nicht, wenn man sich die Enso Vest und die Frederika anschaut. Müsste ich mich auf der Stelle entscheiden, was mein nächstes Strickprojekt wäre, dann würde die Wahl auf Frederika oder Enso fallen, insbesondere in der tollen Ausführung von 2lunas. Außerdem passen beide wunderbar zu diesen klirrend kalten Temperaturen, die wir hier in Berlin in den letzten Tagen hatten.
Eine weitere Entdeckung diese Woche waren die Strickmuster und die Webseite von Anne Hanson. Ich habe sie in einem Video von KnittingDaily kennengelernt, in der sie sich eingehend mit dem Thema Maschenprobe beschäftigte. Ein Thema, um das man als Stricker(in) nicht herumkommt, wenn das Strickstück sitzen soll und das manchmal recht nervig ist, wenn man ungeduldig ist und endlich mit dem stricken anfangen will… Schaut selbst einmal auf der Seite von Anne Hanson unter www.knitspot.com oder auf Ravelry.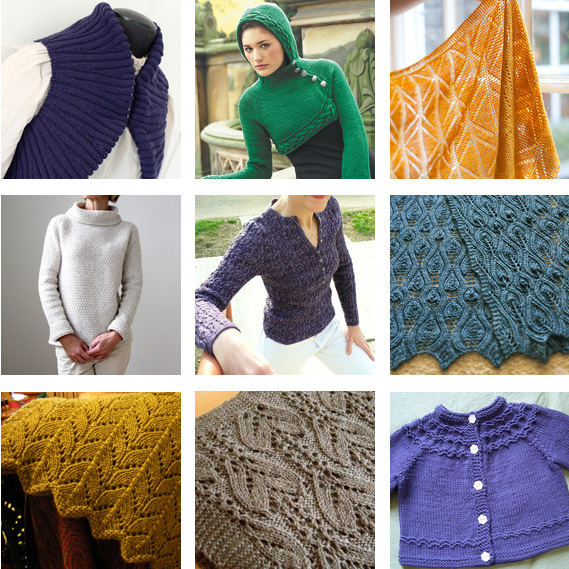 1. Reihe: Enso Vest von 2lunas (Muster von Olga Buraya-Kefelian), #09 Green Iiris/Cropped Hoodie von Marie Muinonen, De Danann von Aiobhe Ni
2. Reihe: Frederika von PiPiBird (Muster von Heidi Kirrmaier), Henley with a twist von Anne Hanson, Rec Rev von Kitman Figueroa
3. Reihe: Horseshoe Pattern von Barbara G. Walker, Crocus Patch Baby Blanket jooleeyet (Muster von Anne Hanson), Seamless Yoked Baby Sweater von fogwalker (Muster von Carole Barenys)
Dear reader, every week I post my top favourite projects from Ravelry with a link to it and to the creator . If you do not wish to see your photo on this website, please email me and I will remove it!